Battle of Kingsport
Location:
2201 Netherland Inn Rd.
Kingsport, TN 37662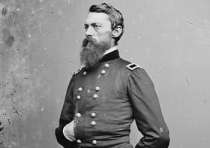 Col. Morgan's Confederate troops, confident in their safety since the bridge was in disrepair, were surprised when Col. Patton's troops came behind them.
Under the command of U.S. Gen. George Stoneman, more than 5,500 Union troops left Knoxville on December 10, 1864, on their way to raid Confederate targets in Virginia. They arrived in Kingsport on the western bank of the Holston River after three days of traveling in frigid, winter weather. Col. Richard Morgan and his 300 Confederate troops were positioned on the eastern bank. The old Ross Bridge that crossed the Holston and connected the two banks was in disrepair and could not support foot traffic. As a result, the well-positioned Confederate troops were confident in spite of being overwhelmingly outnumbered, and the possibility of a Union attack seemed highly unlikely. While some Union troops held their ground, Col. Samuel Patton led the other Union troops roughly three miles up the western bank to Cloud's Ford, where they crossed the river. They then made their way down the eastern bank behind the Confederates and surprised the troops with a flank attack. It is estimated that 18 Confederate soldiers were killed and 84 captured during the Battle of Kingsport.
Tools
Key Facts
Over 5,500 Union soldiers on their way to Virginia ran into a force of 300 Confederate soldiers at the Holston River.
With the bridge in disrepair, Union troops traveled upstream and surprised the Confederates with a flank attack.
Related