Battle of Paris
Location:
2508 East Wood Street
Paris, TN 38242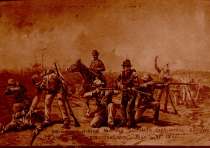 Confederate forces massed in Paris to protect this vital transportation and communication hub. Federals attacked after Forts Henry & Donelson fell. The 15-minute battle left many Confederates dead but forced a Union retreat.
In February 1862, Gen. Ulysses S. Grant led a large Federal force down the Tennessee and Cumberland Rivers with the goal of opening the two major routes into the heart of Tennessee. Recognizing Grant's intentions, Confederate forces massed in Paris, Tennessee, hoping to protect the city, their communication lines, and their road network. Paris was then a vital transportation and communication link between Confederate Forts Henry and Donelson and the command center located in Columbus, Kentucky. When Henry and Donelson fell in quick succession, Federal command sent their main force down the rivers towards Shiloh and Nashville but left a smaller contingent in Paris to save Unionist citizens in the area from Confederate conscription. On March 11, the Confederate force encamped at Paris, roughly 600 men (200 of which were absent due to illness or scouting duties), discovered the Federal advance, withdrew to a more easily defended spot just outside the town, and prepared to attack. Confederate commander Henry Clay King chose the highest hill within a five-mile radius overlooking the major roads as well as the railroad depot. Federal artillery on an adjacent hill began to shell the Confederate force, with little effect other than scattering a few disheartened Confederates. The fighting commenced in earnest just as the sun began to set. Confederate private George Glover advanced beyond his own lines alone and without permission, possibly under the influence of alcohol. A Federal sergeant spotted him and fired a shot that missed, and Glover fired back at point blank range. With the exchange of fire, both sides unleashed on the other; Glover was accidently struck by friendly fire and the Federal sergeant was killed in the crossfire. The ensuing 15-minute battle resulted in a Federal retreat. Rallying the men and bringing up two artillery attachments, the Federals prepared for a counterattack. Grape and canister shot had devastating effect on the Confederates. At dark, both sides ceased their attacks. Believing a rumor that another Confederate force was en route to Paris, the Federals abandoned the city.
Tools
Key Facts
Federals sent their main force towards Shiloh and Nashville but left a small contingent in Paris to protect Unionist citizens
After Federals shelled them, a Confederate private wandered beyond the lines and triggered the shooting
Related